One of the beautiful things about working at a black-arts non-profit is that I get to see incredible work and learn about incredible artists every time I clock in—artists like Shawn Theodore, one of Philly's best (and most beloved) street photographers.
According to his Instagram bio, Mr. Theodore captures "scattered moments and observations as seen across a vanishing landscape of African American neighborhoods." His work has been featured on the cover of the Smithsonian magazine, in Apple commercials and Philadelphia's African American Museum.
This month, my job's gallery is featuring Shawn Theodore's newest exhibit, Future Antebellum, and you know as an inhabitant of the post-Antebellum South, I had a lot of thoughts. Mr. Theodore was gracious enough to answer some of my questions about his work.
There's a lot of noise about how you were Instagram-famous before you were "gallery famous." Recently, you've been receiving more traditional recognition, like the exhibit we're talking about today. What do you think this says about the current critical acceptance of street photographers in Philly?
That's a good question, and to be honest, I try not to focus too much on the media attention simply because it's here today and gone tomorrow. Critical panels consisting of members from your peer group are great, you hear criticism in the language that an artist needs to hear however, even within that dialogue, one can't lose themselves to positive critical praise either. The voice I prefer to listen to is the one that convinced me to be an artist. With that said, there's always been a select set of photographers in Philadelphia who've consistently garnered positive critical attention and acclaim. I think what's changing is the general public's acute awareness of street photography as it is further evolving into an higher form of art and a vehicle for advertising and marketing.
You've mentioned that the landscape of black neighborhoods is vanishing, and that your work's goal is to preserve these spaces. With Future Antebellum, you chose to flip a term that has (perhaps erroneously) been connotated white Southern aristocracy, and show what Antebellum may mean for black Americans. When most people talk about preservation, they talk about freezing something in time. How do you preserve through re-imagination?
My goals as an artist, a photographer, shifts depending on the project I'm working on. Preservation, is a dynamic tool to activate memories, not just to 'store' them, so to speak. I like to place objects in ways that the viewer would have to render themselves free from an understanding of chronological order, I work to make people see reality in new ways.
In your artist statement, you note that black feminism "thrives and flourishes" in the Future Antebellum, as "it is the root that has nourished a nation from its inception, and continues to do so, ad infinitum." I know very few black men who see black women on this level, which exceeds seeing us as "black queens." In your pieces, women are shown in all their beauty and mundanity—they are queens and protectors, the keepers of our tradition, and just lounging on couches. How do you cultivate authentic respect for black women in your art, and life?
Well, I was raised to have respect for women, it's something that I can't separate from my life, work or my art. Most of what I believe in can't be ferreted away from the fabric of who I am. It's difficult to say how I cultivate such a respect, it's simply part of my life, it's something I want my daughter to see in me.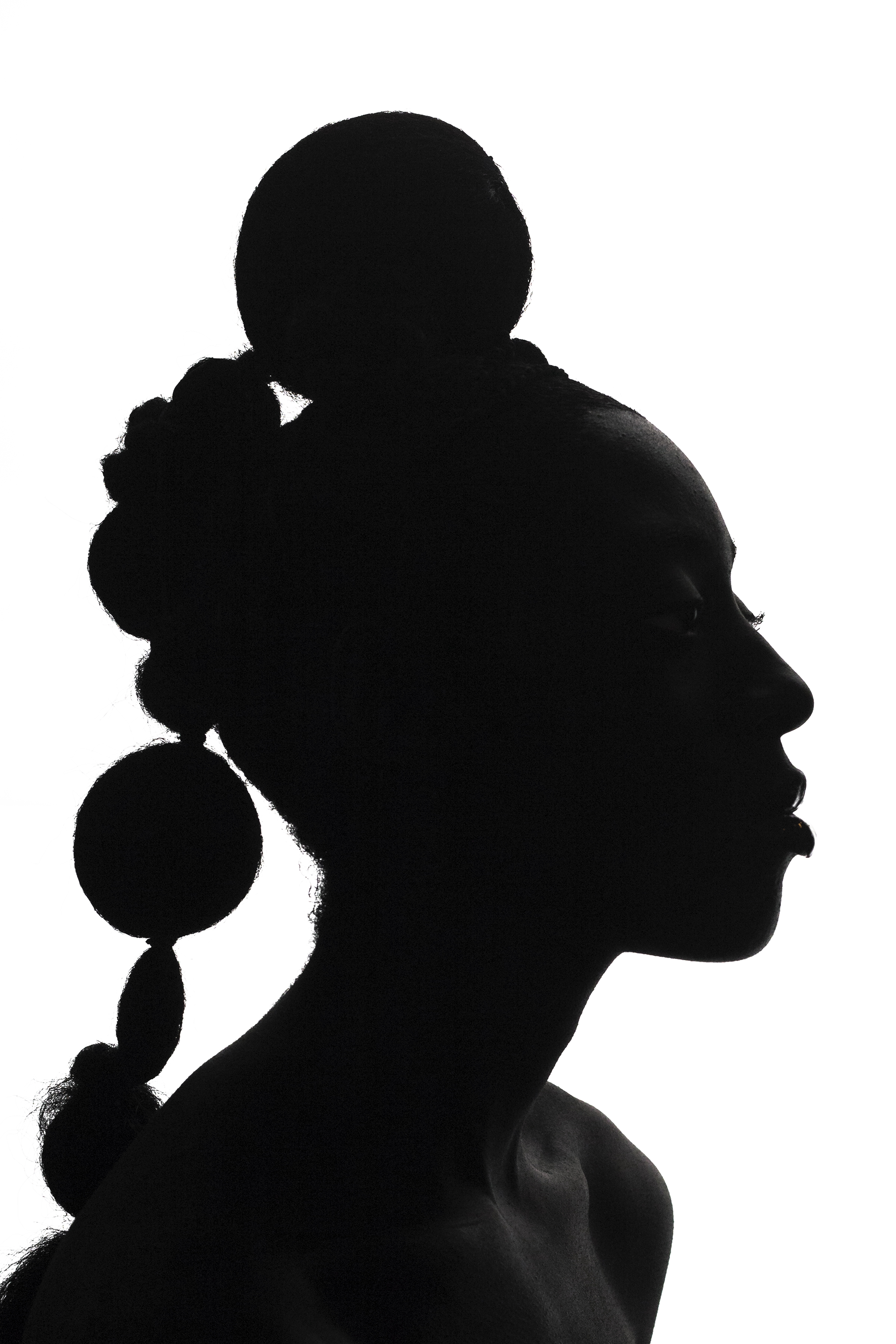 On a similar note, your gallery guide includes this amazing quote from Dr. Brandi Thompson Summers about how "the potential for technology is to allow us as black women to develop and own representations of ourselves; to open up spaces that engender diverse imaginations of our subjectivity." Some would say that because you're behind the camera, your subjects can't do all that. How do you make space for the female subjects in your work to develop their own representations?
I'm behind the camera, but the relationship between myself and my subjects is one of mutual respect for what we can achieve through photography. I ask my subjects to tap into who they are, I ask them to be the person, the energy they have inside of them when we're shooting together. I may have a concept I wish to shoot, but the interpretation of those concepts is up to the subject.
We live in a city where black schools are shut down and repurposed as luxury apartments, rooftop restaurants and yoga studios with "hip-hop" themes. Black life here is both overexposed and undervalued. How does Future Antebellum, which looks towards the future and past, challenge the current in Philadelphia?
Black life in any city, globally, is unfortunately under greater perceived and actual mortal risk. I'm out to challenge the status quo of African American intellect more than I'm out to change a particular city. I don't know what I can do to change a city. The state of the diaspora is the only thing I might be able to impact. The work I do, any of my projects, the meaning behind it all is meant to challenge the understanding of black reality.
Your street photography possesses a rare appreciation of space and silence, and an awareness of the different relations black people can have with "being country" (you've mentioned Philly's concrete cowboys as an example of this.) I've read that you traveled between your father's neighborhood in West Philly and your mother's then-rural hometown in Devon, PA. Is this where your appreciation of Black rurality comes from?
I'm proud to say that I had an amazing childhood; rural, city, and international. I was given a unique hand to play given my family's diverse home life. My memories play an integral part of my artistic process. I grew up with a keen awareness of space and time, my past informs my present and my future.
You've spoken about the distinct vibrancy of our communities, the "subtle language of color and harmony" found only to those who really know African-American neighborhoods. For all the commonalities, there are millions of regional differences among our people. While African-American culture in a city like Philadelphia borrows from the black Southern experience, which many older residents of the area actually experienced, there are still pronounced divisions. Where do you see black Southerners, or the black Southern landscape, even, fitting into your work?
My artistic approach is meant to remove regional differences, in fact using borders or regions as a method of creating difference is a part of a colonial mindset. The closer we are in all aspects, the better we are as an entire group. So it could be the southern US, South Sudan, South Side Chicago, I'm more concerned with uniting our histories and futures.
You were encouraged to leave your home when you were younger, and have admitted that "it took a long time for me to get to a place where I could say I still loved this city." You say "it was all about making the right choices; it was about taking the right steps to love this city again." As Black Americans, we're often trained to hate the places we're from. What were those right choices that helped you love your home again?
Well, I don't have any hard feelings as to my experiences here in Philly, not today. But the most recent major decision I've made in my life was in having my daughter and choosing to raise her here, for as long as I can. There's a joy in watching her grow up on the same streets I did.
Intentionally or not, Theodore's work speaks to the experience of many black Southerners, which is re-imagining to exist. Despite what the constant biopics on the Civil Rights movement or Antebellum South may have you believe, the stories of our rapidly gentrifying sea islands, of our nearly forgotten Friendship Nine, and our misremembered Charleston Nine, have never been told without the white and Northern gaze. In order to erase these patterns, and preserve our history, we need to get creative in our own right.
If you live in the Philadelphia area, make sure to come see Future Antebellum at Art Sanctuary until August 31st. If you don't, feel free to take a look online.
For more of Shawn Theodore's work, please visit his website or his Instagram page.